What is local cryotherapy?
Local or spot cryotherapy targets specific areas of the body with a stream of cold air pumped via a hose from a device called a cryofan. Depending on the device, the temperatures range from -20°C to -130°C. Electric cryogenic devices operate in the range from -20°C to -30°C, while nitrogen cryofans go below -100°C. Extreme cold is a bit like ice massage but more pleasant and efficient.
In the beauty industry, spot cold treatments most often involve the face, neck and decollete areas, scalp, thighs and buttocks. Due to low temperatures reached by local cryo devices, a session takes 8 to 15 minutes, depending on the treatment area. For a more stable result, it is recommended to take local cryotherapy in blocks of five or ten treatments.
Local cryotherapy applications
Cryofacials
The most famous spot cryotherapy application in aesthetics is a cryo facial. It is often touted as a red-carpet treatment, used before important events for a youthful and glowing look. Due to extreme cold, the complexion gets brighter, pores tighten, fine lines and age spots reduce.
Unlike peelings or microdermabrasion, a cryo facial is contactless, non-invasive, and does not leave the skin red or raw. Even though the temperatures are low, the air feels refreshing rather than excruciatingly freezing. It is a safe and relaxing experience.
During the treatment, blood vessels and pores tighten due to the cold, but once the skin returns to its normal temperature after the treatment, the blood vessels expand, pumping oxygen-rich blood to the face, which leaves the skin glowing and vibrant. Boosted blood flow results in reduced puffiness and inflammation. Extreme cold stimulates collagen production – therefore, expect a lifting effect, too.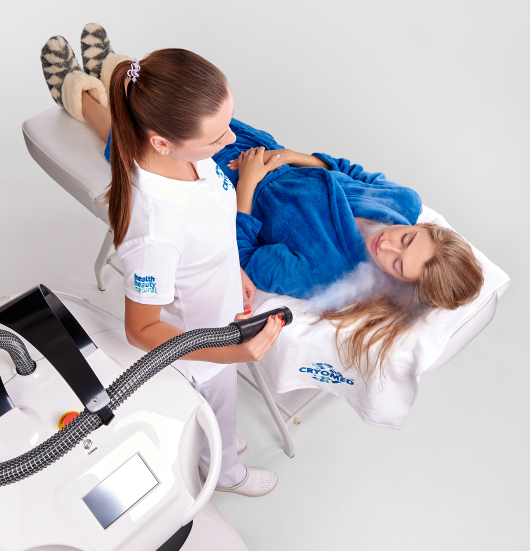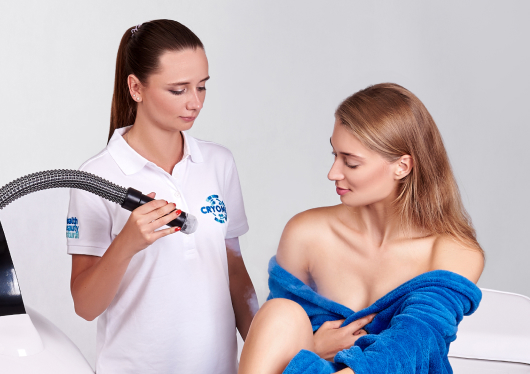 Other beauty treatments
In anti-aging programs, the treatment includes not only the face but also the neck and decollete. Anti-acne treatments mainly focus on the face. Often local cryotherapy treatments also include the scalp for healthier hair.
Another common application for the extreme cold is anti-cellulite treatments. Cooling down the skin activates local metabolism and flushes out the toxins, which helps reverse the dreaded orange peel to a smooth and tight look.
Super cold temperatures boost blood flow which helps beauty products absorb better and work more efficiently. That is why spot cryotherapy is often used to enhance other face and body treatments.
How to choose a local cryotherapy device
While choosing a cryogenic blower for your clinic or studio, pay attention to the operating temperature range, working medium, consumption, design and compactness, mobility, and user interface. Another crucial factor is the location of the temperature sensor. For accurate working temperature readings, the sensor should be placed at the outlet of the cryogenic hose.
A price tag can be a deal breaker, too. The average cost of a cryogenic blower varies from 7,000 to 18,000 EUR, depending on the brand and type of the machine.
Local cryotherapy devices fall into two large groups based on their working medium. Electric devices do not need consumables, but they cannot go below -30°C. Nitrogen-powered devices rely on liquid nitrogen for operation, but their working temperature range spans between -60°C and -130°C, depending on the brand.
We offer two advanced nitrogen-powered local cryotherapy devices, which ensure extremely low treatment temperatures down to -120°C or -130°C, and one electric cooler with a working temperature of -30°C. All our devices are reasonably priced.
Cryofan CF-04 boasts a simple design, easy handling, low weight and quiet operation. A ten-minute session takes only 0.75 liter of liquid nitrogen, which makes the device one of the most efficient in the market. The device is designed to work with a 35-liter Dewar tank. Optionally, a 50-liter or 10-liter tank can be ordered instead.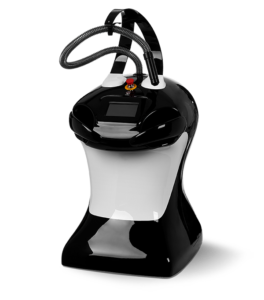 Cryofan CF-05 has a modern design and a 7'' touch screen for comfortable temperature and time control. A long flexible hose and two nozzles supplied in set allow targeting smaller or larger areas, depending on the treatment. The nitrogen consumption is 0.75 liter. A 35-liter Dewar tank is included in the price.
Our electric cryogenic blower requires no consumables, has an attractive design and compact size. Electric cryofans are mainly used as supplementary equipment for better cooling and promoting customer comfort during laser tattoo removal, hair removal or fractional skin rejuvenation. They help reduce pain, swelling and thermal damages caused by laser treatments.
What's the difference between an electric and nitrogen-powered local cryotherapy device?
Nitrogen spot coolers
Working temperature -120°C
Powered by liquid nitrogen
Used in anti-age, anti-acne, ante-cellulite treatments
Electric spot coolers
Working temperature -30°C
Powered by electricity
Used mainly to cool the skin during tattoo or pigmentation removal
Local cryotherapy in the beauty business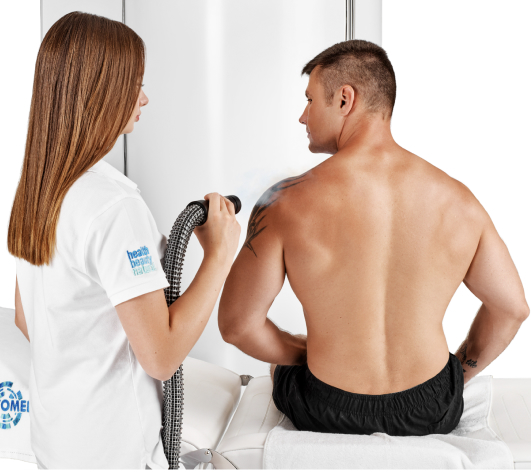 Buying a cryofan is a good investment in your business with fantastic income potential.
With an average price of 35-45 EUR per zone and an average session time of 10 minutes, you will be able to perform some 4 to 5 back-to-back sessions per hour. So total income will be about 175-225 EUR per hour (with 5 sessions).
Your electricity bill will not change much with the addition of the nitrogen-powered cryofan. To estimate your nitrogen budget, keep in mind that an average liquid nitrogen price of 1.5 EUR and an average consumption of 3-4 liter per hour (with 4 or 5 sessions), so your liquid nitrogen expenses will be as low as 4.5-6 EUR.
With cryofacials, you have even wider opportunities. A single cryofacial lasts 30 to 60 minutes (with a cryofan involved 8 to 15 minutes at most), and an average cryofacial price varies from 45 to 65 EUR. Add here a great variety of cryofacial treatments targeting a whole bunch of skin conditions, and enjoy offering a unique solution for your customers.
Who needs local cryotherapy?
Local cryotherapy is the short-term exposure of a particular body area to extremely low temperatures. This process causes muscles to contract, increasing the blood flow to the treated area, soothing inflammation, and speeding up cell regeneration. At the end of the procedure, the patient may experience a pins and needles sensation, which disappears quickly after the treatment.
Local cryotherapy helps to improve your health, gives long-term pain relief, reduces inflammation, provides fast muscle recovery, improves blood circulation and skin tone, reduces wrinkles and fine lines, minimizes scars.
Cryogenic procedures are 100% safe, with no side effects but outstanding results. Local cryotherapy is helpful for localized injuries involving back, knee, elbow, or other joint pains, skin damage, muscle tension, ligament sprains, and so forth.
Cryomed Cryofan CF-04 and Cryomed Cryofan CF-05 represent the main benefits of local cryotherapy. They are portable, easy to use, and reliable.
What is cryo facial?
Cryo facial – is stimulation of the face and neckline with the steam of liquid nitrogen with the help of a local cryotherapy device. Local cryotherapy holds remarkable value for the option of dealing with a specific body area. During whole-body cryotherapy, only the head is out of the cold. Local cryotherapy allows you to direct the stream of cold to any part of the body needed. For this reason, local cryotherapy equipment is in demand in the beauty and medical industries.
Cryo facials are trendy among celebrities.
How does cryo facial work?
The concept of cryo facial is the short-term application of extremely cold temperatures to particular areas of the face or neck.
Cryo facials session causes:
muscles contraction;
increasing of blood flow to the treated area;
inflammation soothing;
collagen production stimulation;
speeding up cell regeneration.
Benefits of cryo facial
Cryo facials became widely used among celebrities for all these effects. The main benefits of cryo facials sessions include:
anti-aging effect – cryo facial boosts collagen production and blood circulation making the skin more smooth and shining. Plus, cryo facials are more pleasant and effective than botox or herbal supplements. It helps naturally reduce wrinkles and fine lines.
help with different skin conditions (e.g., acne, eczema, psoriasis) – local cryotherapy reduces skin redness, irritation and provides pain relief.
mood improvement – positive stress causes endorphin production, making you happier.
What to expect during cryo facials?
The session lasts 8-10 minutes, during which cold air is applied to the scalp, face, and neck. It is pain-free, even pleasant for many of the customers. Some may experience a 'pins and needles' sensation, which disappears quickly after the treatment.
The effect is immediate and could last up to 7 days. But for a more stable result, it is better to have cryo facials every 3-4 weeks.
What cryogenic device can I use for cryo facial?
Cryomed produces two standard models of local cryotherapy devices – Cryofan CF-04 and Cryofan CF-05.
Cryofan CF-04 is a good choice for cryo facials.
The models differ in size, weight, and design but perform equally well. However, cryo facials are not their only use. Cryofans demonstrate outstanding results for localized injuries involving back, knee, elbow, or other joint pains, skin damage, muscle tension, ligament sprains, and so forth.